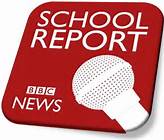 On Thursday 10th March 2016 pupils from this school took  part in BBC School Report Day.
Students from this school will be making more news for real on 10 March 2016 as they take part in BBC News School Report again. We aim to publish the news by 1600 GMT on the News Day, so please save this page as a favourite and return to it later.
On the 1st February 2016, nine Year 8 pupils (Maddy Forbes, Billie Martin, Frankie Stevenson, Shauna O'Hagan, Laura Walford, Robin Sturgess, Hugh Lea, Ben Cooke and Finn Delaney) along with Mrs Moccia and our Year 10 Mentors met with Fleur Clarkson from the BBC. Our briefing was to talk about the latest top news stories and learn how to create a great news story!