In 2017 The Corbet School will be celebrating it's 60th year with a Diamond Anniversary Festival, which will be held on Saturday 20th May.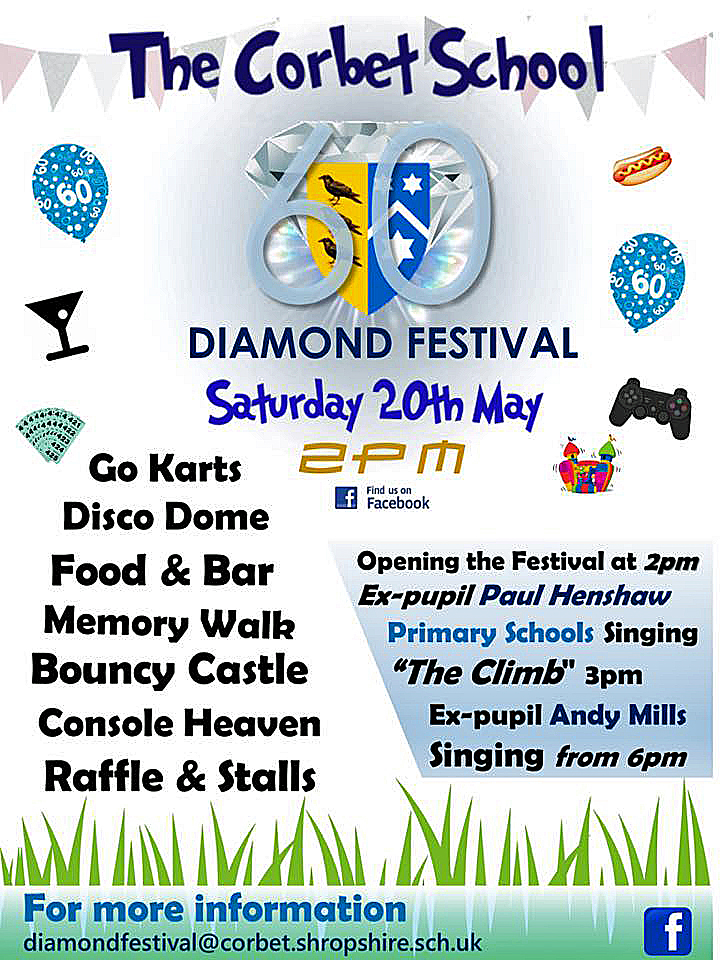 The festival is part of a yearlong celebration which will include a variety of events and activities.  As well as celebrating the past the school is hoping to raise funds for the future in order to refurbish the Science Laboratories and make them more suitable for modern science lessons.
The school's initial target is to raise £60,000 which represents £1,000 for each year that the school has been open.  It is intended that the money raised will be used to apply for 'matched funding' and if successful, this will significantly increase the amount available.  It is estimated that it will cost over £200,000 to refurbish the science department completely.
The Diamond Festival will be a fun filled family event with activities to suit all ages.  Some activities that will be available on the day include: Go karting, Disco Dome, Food and bar, bouncy castle, console heaven, and various stalls.  The festival will also include a memory walk for past pupils, which will show photographs taken at the school throughout its 60 years.  Local primary schools will also be joining in with the celebrations and will be singing on stage at 3.00pm.  From 6.00pm former pupil – Andy Mills will be singing live on stage.
The School is also running a yearlong raffle which will be drawn on 1st December 2017, with a top prize of a smart TV.  Tickets for the raffle are available from the school throughout the year and will be on sale at the Festival in May.
The Corbet School is part of the local community and is aware that many of the local primary schools, businesses, parents and children have all been part of its history.  The school hopes that everyone will continue to support them in the future, and come along on Saturday 20th May to celebrate their 60th Anniversary
Please follow the our dedicated Facebook page via the following link: https://www.facebook.com/corbetdiamondfestival